Demonstrating a commitment to diversity, equity, and inclusion (DEI) in the workplace is no longer optional. 70% of job seekers say that, when evaluating potential employers, they value a company's commitment to diversity.

But business needs, opportunities, and progress related to DEI can be difficult to measure, especially without a benchmark to understand how your firm performs against the staffing industry at large.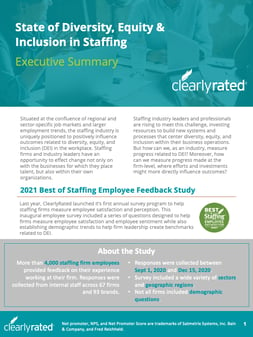 The State of Diversity, Equity, and Inclusion in Staffing report provides the first-of-its-kind analysis of the staffing industry's performance related to DEI. In this report, we've brought together data from more than 4,000 staffing professionals to help you:
Understand basic demographic trends and diversity benchmarks in staffing
Uncover perceptions held by staffing professionals about the state of DEI at their firm
Explore issues related to representation, opportunity, and pay in staffing
Identify how staffing professionals weigh satisfaction with their employers
Get your copy of the report today!