EXCLUSIVE RESEARCH WEBINAR
What Staffing Clients Want: 2022 Staffing Buyer Trends
Wednesday, August 24 @ 10:00am PT | 1:00pm ET
ClearlyRated and CareerBuilder share insights from the latest staffing industry research.
Find out what 621 hiring managers had to say about what drives their buying decisions in Part 2 of our free staffing industry research webinar series.
The Great Rehire, worker shortages, possible recession - in these unprecedented times, staffing buyers are counting on their staffing partners to provide the flexibility to scale their workforce, and to find candidates with specialized skills, fast. Balancing client expectations with changing job seeker demands require staffing and recruiting firms to be agile and responsive, with a mastery of the market.
Why attend?
Get exclusive access to the latest staffing industry research as Eric Gregg of ClearlyRated and Dave Kollmorgen of CareerBuilder share data and insights from our new 2022 Staffing Buyer Study, including:
The key drivers for winning and retaining business in 2022

The pain points that cause staffing firm clients to shop around

Staffing buyer projections regarding hiring practices, flexibility, compensation, turnover, and remote work

The role that diversity, equity, and inclusion (DEI) practices play in client satisfaction and retention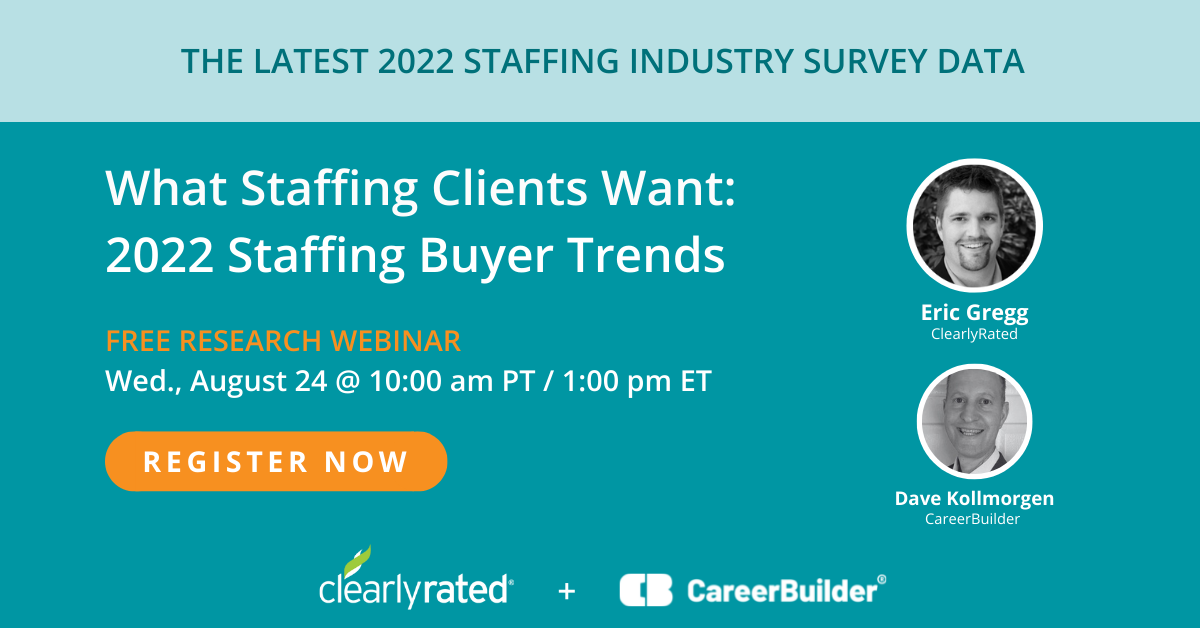 Research in this presentation is sourced from the 2022 Staffing Buyer Study and the 2022 State of the Job Candidate Study - a joint research initiative conducted by ClearlyRated in partnership with CareerBuilder and the American Staffing Association.
Want to view Part 1 of this webinar series? Watch it on-demand: The Great Rehire: What Job Seekers Truly Want.
Presenters

Eric Gregg | CEO & Founder of ClearlyRated
With 18 years of research experience in the staffing and recruiting space, Eric Gregg and his team at ClearlyRated have analyzed more than 5 million surveys with the goal of determining what drives success for staffing and recruiting firms. Eric has served as an adjunct faculty member in Portland State University's marketing program, and has published numerous articles, business cases, and technical notes in the field of marketing, client loyalty and employee satisfaction. His research and consulting have been featured in articles and as a noted industry speaker.

Dave Kollmorgen | Sales Director, CareerBuilder, Staffing & Recruiting Group
Dave has over 17 years of industry experience in the staffing and recruiting space, having worked with thousands of CareerBuilder customers, both direct employers and staffing/recruiting firms. He's led and grown teams from their small business segments up to key accounts. He currently oversees CareerBuilder's Staffing and Recruiting Group, which services the entire staffing industry including 95% of the top 150.
This webinar is made possible by our sponsors: