RESEARCH REPORT
Staffing Employee Turnover Report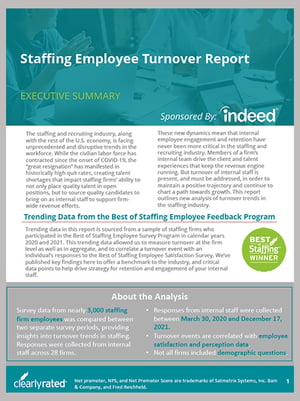 New Data on Internal Employee Retention and Turnover Rates
Internal employee engagement and retention have never been more critical in the staffing and recruiting industry. Members of a firm's internal team drive the client and talent experiences that keep the revenue engine running - and the cost to replace even a single employee is high. But turnover of internal staff is present, and must be addressed, in order for staffing firms to maintain a positive trajectory and continue to chart a path towards growth. This report outlines new analysis of turnover trends and retention dynamics in the staffing industry.
Inside this report you will learn:
The latest benchmarks for internal employee turnover within the staffing and recruiting industry

Which roles within a firm are most likely to turn over and lead to costly churn

How Employee NPS (eNPS) and survey response rate predict employee retention

Why internal employee turnover trends point to the need for continued investment in diversity, equity, and inclusion (DEI)

Which employee perceptions are most closely linked with churn
About the Study
The Staffing Employee Turnover Report is generated from a ClearlyRated analysis of more than 6,000 survey touchpoints across nearly 3,000 staffing firm employees. Survey respondents work for staffing firms who participated in the Best of Staffing Employee Survey program in 2020 and 2021, and provides us with a trending data set with which we can measure turnover at the firm level as well as in aggregate, and correlate a single turnover event with an individual's responses to the Best of Staffing Employee Satisfaction Survey. The published report includes key findings, turnover benchmarks for the staffing and recruiting industry, as well as critical data points to drive strategy for the engagement and retention of internal staff.