Operationalizing Excellence with Consultant Care
A KFORCE CASE STUDY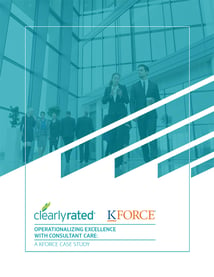 Learn how Kforce (a nation-wide professional staffing services and solutions firm) leveraged ClearlyRated's Net Promoter® survey platform to:
Diagnose the state of the candidate (consultant) experience

Hold their team accountable to measurable service standards

Credibly prove service standards and communicate the Kforce difference

Grow their placed talent NPS® rating to 62%

(compared to an industry average of just 24%)
Increase revenue in top-performing offices at 2x the pace of the industry (and 10x faster than offices with lower NPS)
---
It's one thing to say you provide a best-in-class candidate experience. But to quantify it with data? That's another thing all together.
If you are like many talent acquisition leaders, you may struggle with quantifying the candidate experience. You may wonder how to scale operational excellence, hold your leaders and employees accountable, and measure results. You're not sure if there's a partner who can help you navigate these challenging waters...
This case study is for you.