– Webinar OnDemand –
Client Service and Brand Differentiation
Lessons from 2020 Best of Staffing® Winners
---
WHAT: Staffing Industry Webinar
WHO: Moderated by Eric Gregg, CEO and Founder of ClearlyRated
---
Why watch this webinar?

Did you know that more than 50% of staffing firm clients and buyers believe that all staffing providers are mostly the same? In an industry where 20,000+ service providers compete for business - it has never been more critical for staffing firms to credibly differentiate their brand and establish their firm as a valuable service provider.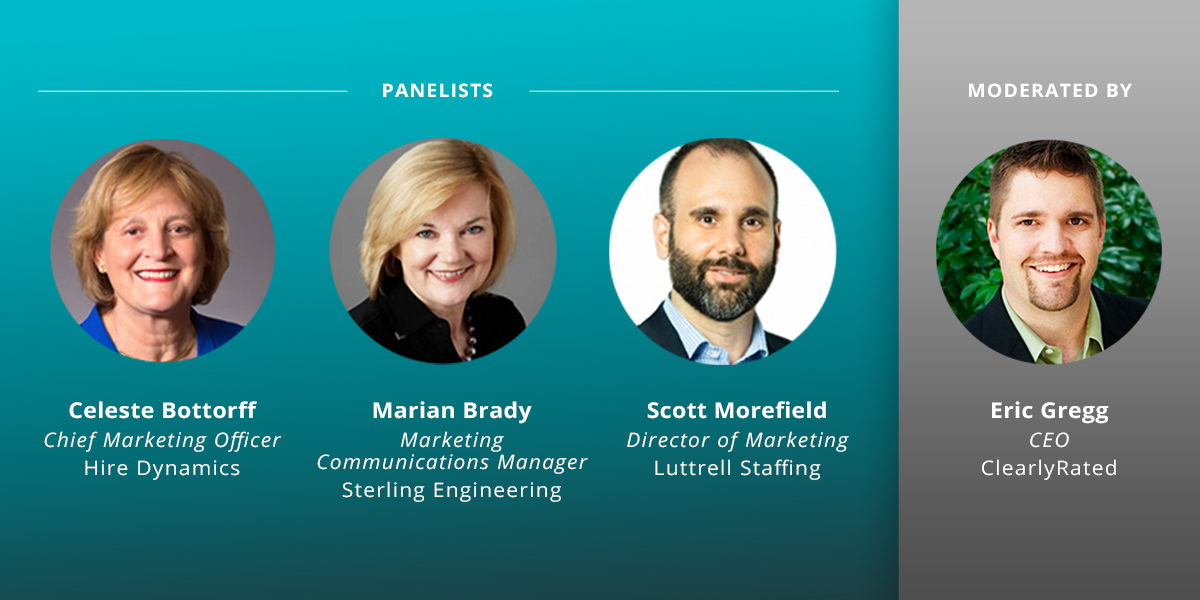 This webinar features an all-star panel of marketing and brand leaders in the staffing industry to address this topic. Marian Brady (Marketing Communications Manager at Sterling Engineering), Scott Morefield (Director of Marketing at Luttrell Staffing Group), and Celeste Bottorff (Chief Marketing Officer for Hire Dynamics) come together to share lessons from the field, discuss how the Best of Staffing program fuels their firm's differentiation strategy, and consider new approaches to navigate this complicated competitive landscape.

In this webinar - moderated by ClearlyRated's CEO and Founder, Eric Gregg - panelists discuss:

The staffing industry's growing differentiation dilemma;
Changing perceptions and expectations from buyers;
The role of client satisfaction in marketing and sales efforts;
Strategies for increasing brand value in digital channels;
How client selection and client fit influence service quality.
---
Moderator - Eric Gregg

With nearly 15 years of research experience in the staffing and recruiting space, Eric Gregg and his team at ClearlyRated have analyzed more than 3 million surveys with the goal of determining what drives success for staffing and recruiting firms. From trying to find, attract and retain top flexible and permanent talent to delivering world-class service to the clients they serve, ClearlyRated's research has influenced top staffing firms across the globe.
ClearlyRated's popular Best of Staffing program turns actionable client and talent satisfaction surveys into credible online ratings and testimonials, recognizing the top firms at ClearlyRated.com. Eric has served as an adjunct faculty member in Portland State University's marketing program, and has published numerous articles, business cases, and technical notes in the field of marketing, client loyalty and employee satisfaction. His research and consulting have been featured in articles and as a noted industry speaker.
---
Panelists

Marian Brady
Marketing Communications Manager
Sterling Engineering

Scott Morefield
Director of Marketing
Luttrell Staffing Group
Celeste Bottorff
Chief Marketing Officer
Hire Dynamics
---
This webinar is made possible by our
2020 Best of Staffing® sponsors: