– Webinar OnDemand –
Beyond Best of Staffing®:
How Service-Centric Firms are Surveying Talent in the Time of COVID-19
---
WHAT: Staffing Industry Webinar
WHO: Moderated by Eric Gregg, CEO and Founder of ClearlyRated
---
Why watch this webinar?
From historically low unemployment to more than 20 million people laid off in less than a month, COVID-19 has turned the staffing landscape on its head. Some of the most successful staffing firms in the past 5 years have put talent engagement at the forefront of their strategies--improving retention, referrals and redeployment of their temporary employees along the way. But do those strategies still yield results in the face of a global health pandemic and through a recession?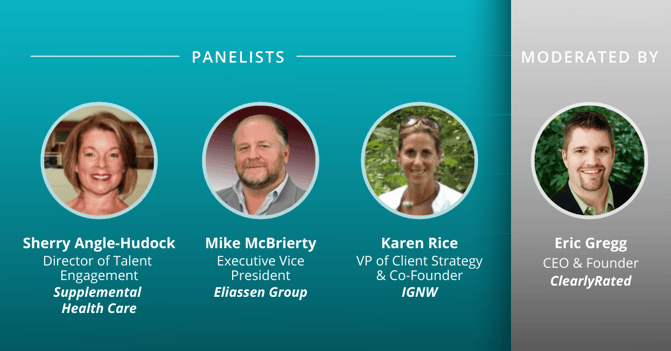 In this webinar, ClearlyRated hosts 3 staffing leaders to discuss what has (and hasn't) changed in their focus on talent service. Sherry Angle-Hudock (Director of Talent Engagement at Supplemental Health Care), Mike McBrierty (Executive Vice President at Eliassen Group), and Karen Rice, (VP of Client Strategy / Co-Founder at IGNW) join ClearlyRated's CEO and Founder, Eric Gregg to talk about how they go beyond Best of Staffing, to measure and act on talent feedback in real-time throughout the year.
In this webinar, panelists will discuss:
The impact talent engagement surveys have within their firms;
How delivering world-class service to placed talent supports client retention;
Leveraging talent feedback to increase morale within the firm;
Best practices for launching and managing a talent engagement program;
How their surveying strategies have changed (and not changed) due to COVID-19.
---
Moderator - Eric Gregg

With nearly 15 years of research experience in the staffing and recruiting space, Eric Gregg and his team at ClearlyRated have analyzed more than 3 million surveys with the goal of determining what drives success for staffing and recruiting firms. From trying to find, attract, and retain top flexible and permanent talent to delivering world-class service to the clients they serve, ClearlyRated's research has influenced top staffing firms across the globe.
ClearlyRated's popular Best of Staffing program turns actionable client and talent satisfaction surveys into credible online ratings and testimonials, recognizing the top firms at ClearlyRated.com. Eric has served as an adjunct faculty member in Portland State University's marketing program and has published numerous articles, business cases, and technical notes in the fields of marketing, client loyalty, and employee satisfaction. His research and consulting have been featured in articles and he is a noted industry speaker.
---
Panelists

Sherry Angle-Hudock
Director of Talent Engagement
Supplemental Health Care

Mike McBrierty
Executive Vice President
Eliassen Group

Karen Rice
VP of Client Strategy / Co-Founder
IGNW
---
This webinar is made possible by our
2020 Best of Staffing® sponsors: